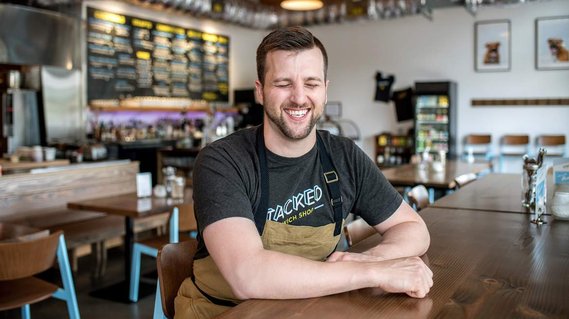 I am honored to photograph Oregon restaurants, food products, and food events. I couldn't ask for a better industry to work with. Below you'll find some very kind words from clients, plus an ongoing list of restaurants and companies that I have the privilege of calling my clientele.
Kind Words
"Talent and ease are the first words that come to mind when thinking of Aubrie's work. She is underrated, professional, incredibly flawless in her execution, and not only creates gorgeous shots every time, but her inventiveness and care behind each shot is unlike anyone I have worked with. On top of the beautiful results you receive with Aubrie's work, she is a wonderful person, making working with her that much easier. She is one of the best, hands down." -Camille Cavan | Quaintrelle
"Aubrie has been such a great partner to us for our various photography projects. She brings consistency across our food, people and environment shots that help tell our brand story beautifully. She quickly picks up on the vision for a particular shot, usually improving it, and is able to put our chefs at ease so they can forget the camera and focus on their craft. And her work speaks for itself - I've always been thrilled with the results." - Leah Schlechter | Black Walnut Inn & Vineyard
"Aubrie is a great photographer, captures food and events so well! She is also super friendly and nice. She got me some quick pictures right after the event, then a downloadable link a few days after with large format and social media format! Definitely recommend her for you photography needs!" - Gabriel Pascuzzi | Mama Bird
"Using strong side lighting, low apertures, and inventive table settings, Aubrie LeGault composes bright and lively images that carry visual interest while telling a story. Her expert use of still life and motion shots adds depth and human emotion to her stunning food editorials. Bright pops of color and casually styled ingredients bring out the lines and shapes within her compositions, while smooth bokeh and plenty of negative space draws the eye in. LeGault makes food look irresistible and high-end, which makes her one of our favorite Portland food photographers. Her exceptional work has also made her a go-to for brands like FINEX Cast Iron Cookware." -Peerspace | "The 9 Best Food Photographers"
"Aubrie is one of the best photographers in town. We have been lucky to work with her. She has a great eye for photography overall and is able to capture beautiful candid shots, action shots and still life. Aubrie's modern style is what we and our clients are all looking for. We use her photos for Feast Portland and Little Green Pickle and could not be happier. She is professional and fun to work with!" - Jannie Huang | Little Green Pickle
"I've worked with Aubrie on everything from client photo shoots to family portraits, and the quality of her work is always on point. She brings a very chill, no drama energy that I always appreciate. She's not afraid to experiment and be creative, without losing sight of the overall intention of the shoot." - Heather Jones | Heather Jones PR
"Working with Aubrie is always a joy since I know she will respond to my clients professionally and deliver creative and beautiful images. Aubrie is more than a vendor, she is part of our team and goes well beyond to ensure a successful and long-term client relationship." - Lisa Hill | Lisa Hill PR
Clients
Tillamook Creamery, Hood River Distillers, Brazi Bites, FINEX, Cascade Street Vodka, V2O Life, Laughing Planet, Quaintrelle, Black Walnut Inn & Vineyard, FEAST, Allison Inn & Spa, Ringside Steakhouse, Oregon Fruits, Old Spaghetti Factory, Steelport Knife, Rally's Pizza, Belle Pomme, Chocolat-e, Jarana, Morgen Long, Keto Pint, Montinore Vineyards, Suckerpunch, Acadia Bistro, Botanist Restaurant, Lt. Blender, Celilo Restaurant & Bar, Hawkins Cellars, The Bourbon Classic, Hunt & Gather Catering, Tabor Tavern, Swift & Union, Ex Novo Brewery, Brix Tavern, The Fireside, Kaos McMinnville, Dairy Hill Ice Cream, Pinolo Gelato, Heritage Soups, Sach Foods
Publications
Saveur, Imbibe, Thrillist, Portland Monthly, 1859 Oregon's Magazine, Portrait of Portland, Edible Portland, Oregonian, Tasting Table, The Pearl Magazine, Oregon Wine Press, Spirituality & Health, The Gorge Magazine, OnTrak
Cookbooks
"Salt Block Grilling" by Mark Bitterman